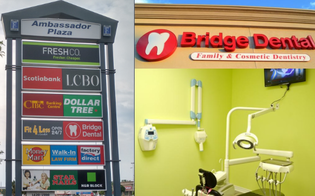 Welcome to Bridge Dental, serving Windsor, Ontario and Metro Detroit surrounding areas. We are located in the west region of Windsor, at the intersection of Huron Church Rd. and Tecumseh Rd. West. To serve you better, our staff can speak a variety of languages including English, Chinese, and Arabic.

At Bridge Dental, we strive to help our patients achieve a lifetime of optimal oral health and aesthetic appearance through personalized state of the art care delivered as comfortably and painlessly as possible. Our goal is to serve our patients in a courteous, professional and kind manner, and to develop long term relationships with them.

If you are interested in seeking your dental care at Bridge Dental but still have questions, we invite you to book a 10-minute FREE Consultation with our dentist before committing an examination and treatment plan. Alternatively, you can simply fill out the Questions/Comments Form below, to send us your comments, questions, or suggestions. We will carefully review and try to respond to you in a timely manner.

Thank you!


---